Welcome to Auntie Joy's Springrolls. Relax, Enjoy and Be Pampered.
We are located at 75 First Street, Orangeville, Ontario, L9W2E7 and its beside the Mac's Milk Convenient Store.
Who is Auntie Joy?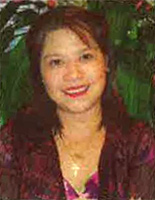 Benilda 'Joy' Bradley is the Owner of Auntie Joy's Springrolls Restaurant.
Joy was born in the Philippines, she came to Canada from Singapore in 1990 on a 2 year Visa to work as a Nanny/Housekeeper.
She has since become a Canadian Citizen and loves this country and community. Last March on 2009, she realized her dream and opened Auntie Joy's Springrolls. Joy's passion for cooking and her kind, friendly nature have contributed to her success. She hand makes all the items on the Menu which specializes in Thai, Vietnamese and Filipino Cuisine.
Auntie Joy's Springrolls is one of Orangeville restaurant business establishment serving the community. If you wonder where Orangeville is, it is about twenty minute drive north of Brampton on Hwy 10. Its part of Dufferin County which provides you lots of scenic views and beautiful landmarks such as Hockley Valley, the Forks of the Credit, the Bruce Trail and Mono Cliffs Provincial Park.
Anyways, enjoy and visit us one of these days and we'll be happy to serve you.