February 25, 2014
Orangeville Banner
by: Amanda Jerome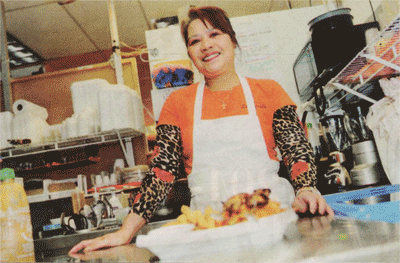 Benilda Joy Bradley, known as Auntie Joy, was thinking of getting a hotdog cart.
After the factory she was working in moved its production to Mexico, Auntie Joy was in search of gainful employment. She was considering buying a hotdog cart to run when the restaurant Springrolls 88 in Orangeville went up for sale.
"I begged my husband for a week to let me buy the business," Auntie joy said. "Eventually he relented, thinking it was better than a hotdog cart, and that became Auntie Joy's Springrolls."
The restaurant opened in the spring of 2009 and serves a variety of Vietnamese, Thai, and Filipino cuisine. Located at 75 First Street, it specializes in take-out food, but has a small sit-down area for people who want to drop in and enjoy Auntie Joy's company, as well as her cooking.
"What I love most is my customers," she said. "I have known some of these people for years and they keep coming back. It makes me feel that I'm doing something right."
Auntie joy is originally from the Philippines and came to Canada in 1990 to work as a nanny.
"If you grew up in the Philippines you would realize how hard it is to put food on the table," she said. "Just working as a nanny in Canada was far more beneficial to me than working in the Philippines. It also gave me the opportunity to help my family out back home."
Although she came here as a nanny, Auntie Joy's talents have always leaned towards cooking and the service industry. Since coming to Canada she has worked at a variety of food establishment including: Tim Hortons, Pizza Hut, Dragon Paradise, and Swiss Chalet.
"I enjoyed serving people and decided that is what I wanted to do," she said. "Auntie Joy' Springrolls used only the freshest ingredients chosen by me. I personally chose each and every ingredient that goes into my food. I know if I think it's good then the people will like it."
Fresh food and good service is what keeps Auntie joy's customers coming back for more, but her success as an entrepreneur comes from her belief in loving what you do and putting your heart and soul into it.
"It doesn't matter if you are a woman or a man in business," she said. "It [your business] will succeed no matter where you live as long as you put your heart into it."