April 16, 2009
Orangeville Citizen
Filipino Flavour at New Eatery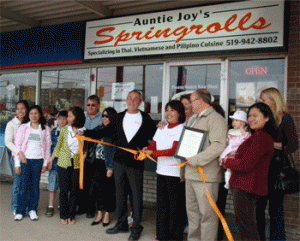 Joy Bradley is busy these days. Her new Thai/Vietnamese/Filipino restaurant will officially open tomorrow, April 17, in the Mac's Milk plaza on First Street, Orangeville, and she is shopping, cooking, and planning for a weekend of specials. She has already taken over the old Springroll 88 location in the plaza and will reopen the restaurant under a new name: Auntie Joy's Springrolls.
Joy, who came to Canada from the Philippines 18 years ago, has always loved to cook the foods of her homeland. Her spring rolls are already legendary among her friends here in Orangeville. Looking for a career move this winter, Joy was applying to programs in the health care field when the opportunity to buy the restaurant came up. She realized immediately that this was what she had always wanted to do and leaped at the chance to open her own restaurant.
In addition to Thai and Vietnamese dishes, Joy is enthusiastic about adding traditional Filipino fare to the menu: arrozcaldo (rice soup), minudo (a pork dish) and adobong manok, a chicken dish served with mami or lomi noodles. She also plans to cook daily specials: chilis, curries, beef stews, pork shish kebobs.
While the focus will be on take-away food, there will be three tables at the restaurant, Joy explains. That way, people can enjoy a meal on site and visit with the owner. Joy hopes to create a welcoming atmosphere where she might even offer karaoke nights.
Mayor Rob Adams will be stopping by for a ribbon cutting ceremony on April 18, and customers who are lucky enough to pick up one of the 600 flyers Joy has distributed can enjoy a free pop and an egg roll. Joy has arranged for Fr. Paul Dobson, pastor of St. Timothy's parish, to bless the restaurant as part of the opening.
If Joy's infectious enthusiasm for her business is any indication of the restaurant's chances, Orangeville will soon enjoy a tasty addition to the local dining scene. The restaurant in Orangeville will be open Monday to Saturday from 10:00 am until 9:00 pm.